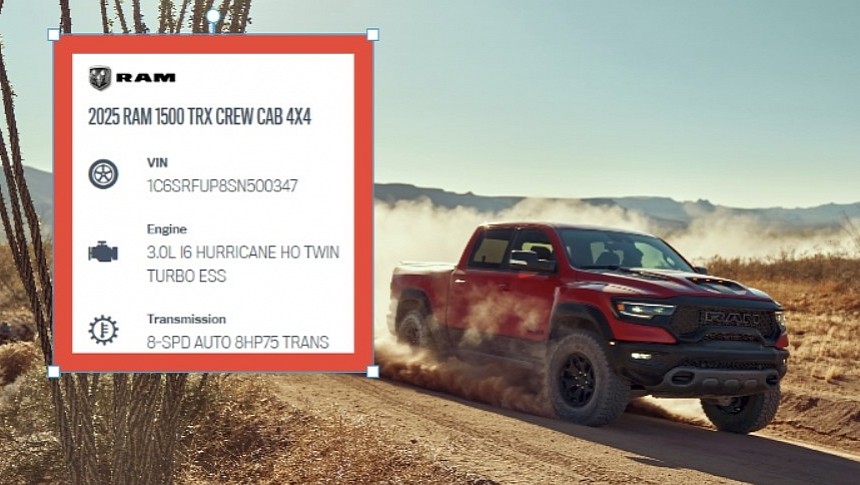 As you're well aware, 2024 is the final year of the Hellcat-powered Ram TRX off-road pickup truck. Chrysler is going down the inline-six route for 2025, with said engine being the 3.0-liter Hurricane.
​
Officially dubbed Stellantis Hurricane, this lump comes in two flavors. The standard-output specification belts out a respectable 420 horsepower and 468 pound-feet (635 Nm), which is more than you get from the B58 inline-six turbocharged engine of the
BMW M340i
compact executive sedan.
In the Ram 1500-based Jeep Grand Wagoneer, the high-output specification is an extra over the 6.4-liter HEMI. Rated at 510 horsepower and 500 pound-feet (678 Nm), this lump is 39 horsepower and 45 pound-feet (61 Nm) up on the naturally-aspirated V8.
It also rivals the S58 in the BMW M3, which is low-key impressive in every respect. How much power and torque can we look forward to from the 3.0-liter Hurricane in the 2025 Ram 1500 TRX? As per a leak that's been making the rounds on multiple forums, we're dealing with the high-output specification.
You already know the numbers, but some peeps claim that we're going to receive a bit more oomph. Given that Chrysler is much obliged to take the Hurricane beyond 1,000 horsepower as a crate engine, it's easy to imagine 700-odd horsepower in this particular application, therefore matching the soon-to-be-discontinued Hellcat supercharged V8.
Also shared by Butter Da Insider, the leak in question lists vehicle identification number 1C6SRFUP8SN500347 and the 8HP75 torque-converter automatic. Designed by ZF, this gearbox is called 8HP75 because it has eight forward gears and takes up to 750 Nm (553 pound-feet) of torque.
That's as important of a detail as it gets, for the
high-output Hurricane
is pretty close to said rating. By comparison, the 2021 to 2024 Ram 1500 TRX is equipped with the 8HP95 that supports up to 900 Nm (664 pound-feet). The diesel-specific version can easily handle 1,000 Nm (738 pound-feet) of twist.
Revealed in August 2020 for the 2021 model year, the half-ton pickup truck with 35-inch rubber boots can hit an electronically limited 118 miles per hour (190 kilometers per hour). Chrysler quotes 12.9 seconds at 108 miles per hour (174 kilometers per hour) for the quarter mile, as well as 4.5 seconds from zero to 60 miles per hour (97 kilometers per hour).
The 2021 Ram 1500 TRX used to retail at $69,996 (plus $1,695 for the destination freight charge). Although exempt from the gas-guzzler tax, it's a heavy drinker. According to the Environmental Protection Agency, the four-wheel-drive thriller averages 12 miles per gallon (19.6 liters per 100 kilometers) on the agency's combined test cycle.
Although the build & price tool doesn't list the 2024 model at the moment of writing, we do know that Chrysler is bidding farewell to the Hellcat-powered TRX with a special edition that costs $117,625 (plus $1,995). By comparison, the 2023 model year
Ram 1500 TRX
carries a starting price of $85,700.
Online article by
Autoevolution